The Great White Knight, 1942. Promo pic for Salvador Lutteroth, father of Mexican Lucha Libre.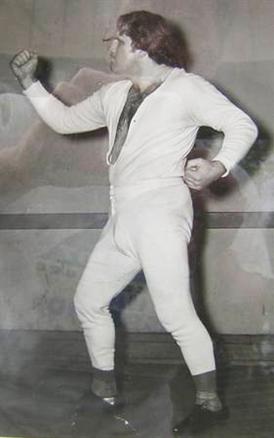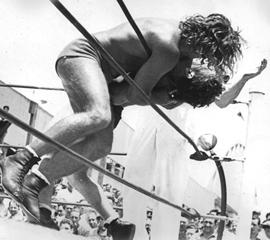 Click Middle Arrow Above to Ring Bell
On this visit to wrestling's early days and my dad, Wild Bill Zim's nomadic adventures. Here's some of the subjects and personalities to be covered, for your pleasure and learning:

Wild Bill, Douglas Aircraft lunch-time show, Santa Monica, CA 1936.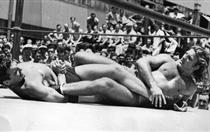 ---Match history, including dates, cities, venues, cards, newspaper excerpts, and sourcing references;

---Ringling Brothers Circus: Taking on all comers, Tarzan of the Elephants, palm-reading, fortune-telling;

---Going native in Hawaii and Nicaragua;

---Testing the Momsen Lung submarine escape device;
---Muscle Beach, Santa Monica;

---Early days of Hollywood: Johnny Weissmuller, Joe E. Brown, Mickey Rooney, Gene Autry, Dude Chick, the Three Stooges, Sister Aimee Semple McPherson;

---The father of Mexico's Lucha Libre, Salvadore Lutteroth;
---Boxers Jack Dempsey, Joe Louis, Max Baer, Primo Carnera;
---March of Dimes fundraising with Eleanor Roosevelt;
---The many guises Bill wrestled under, and nicknames given to him, such as the Man from Mars, the Children's Choice, the eccentric … bushy-haired brown man from South America, and the 'Shirley Temple' of the bone-bending business;
Music, art, and humor...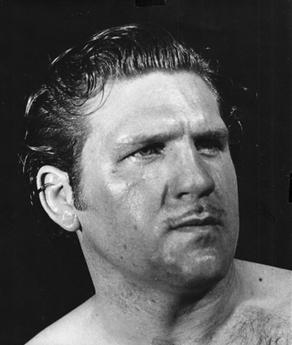 including Lou Thesz, Gorgeous George, Gorgeous Gus the Bear, Gorgeous Billy Darnell, Gorgeous Owen Gilpin, Lord Lansdowne, Buddy Rogers, Antonino Rocca, Ed Strangler Lewis, Bad Boy Brown, Bad Man Lewis, Bob (Legs) Langevin, Mad Dog Vachon, John Pesek, Frank Sexton, French Angel, Swedish Angel, Italian Angel, the Stanlee Brothers, George Zaharias, Dude Chick, Dory Funk, Frank Stojack, Kay "Samson" Bell, Ben Ali, Ali Pasha, Ali Aliba, the Sheik of Araby, El Toro, Bull Weideman, Bronko Nagurski, Larry (Babe) Kasaboski, Babe Sharkey, Mike Mihalakis/Prince Ilaki, Martin (Blimp) Levy, Man Mountain Dean, Jumbo the Bull, Farmer Brown, Farmer Jones, Farmer Mack, Flash Clifford, Flash Gordon, Lefty Pacer, Frankie Talaber, Billy Two Rivers, Chief Don Eagle, Indian Ike Cazzell, Chief Big Heart, Chief Suni War Cloud, Chief Chewacki, Chief White Owl, Black Dragon, Yellow Scar, Golden Terror, Purple Flash, Purple Phantom, Purple Secret, Scarlet Scourge, Violet Viann, Johnny Rougeau, Bert Rubi, Wild Red Berry, Red Shoes Dugan, Red McIntyre, Red Shadow, Red Vagnone, Red Parry, Red O'Malley, Dark Secret, Bobo Brazil, Rufus Jones, Great Mephisto, Great Kirilenko, Ivan Rasputin, Mr. Satan, King Kong Al Krusher, Sinbad the Sailor, Sailor Jack Olson, Soldier Thomas, Count Carl Von Lehman, Joe Savoldi, Zebra Kid, Big Bill Miller, Johnny Demchuk, Stacey Hall, Ruffy Silverstein, Fred Carone, Jack Vansky, Whitey Wahlberg, Walter (Sneeze) Achiu, Whiskers Abraham, Tarzan Hewitt, Tarzan Zimba, Mr. "X", Hooded Terror, and many, many Masked Marvels.